EMD GP40 Diesels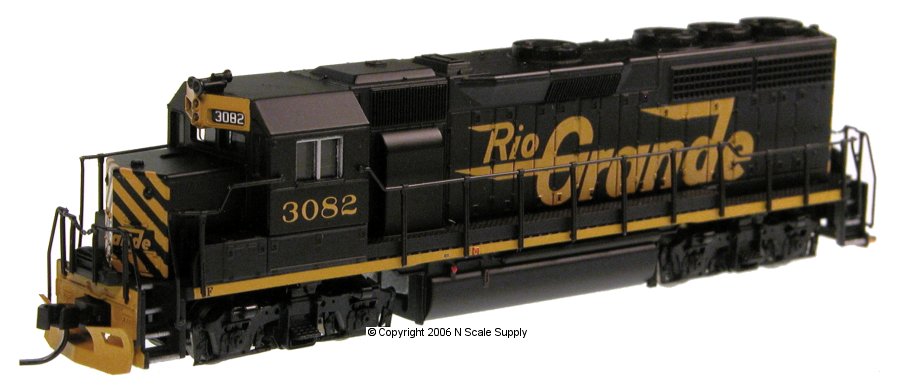 The N scale locomotive is modeled after Electro Motive Division's 2000 horsepower GP-38 diesel introduced in the late 1960's and early 1970's and is still in service today throughout North America. The GP-40 was the 3000 horsepower successor to the GP-38, best characterized by the three full size radiator fans on the rear of the roof. The GP40-2 had mostly internal changes but several outside details such as bolted down battery box covers and a roof that extended slightly beyond the rear of the cab differed it visually from the GP-40.
Prototype Information
Similar in appearance to the GP35 with a couple of exceptions. Two small exhaust stacks instead of the larger stack of the 35 and two radiator fans instead of the three on the 35.
Road Switcher
Trucks: B-B
Prime Mover: 3000 horsepower 645 16-cylinder engine
Model Information
Two different variations are available; a standard DC version and one equipped with a factory-installed DCC decoder board.

Features include:
Directional lighting
Blackened wheels
Dual flywheel equipped 5-pole skewed armature motor with a low friction mechanism
Full pilots with body mount AccuMate® magnetic knuckle couplers!
Scale Speed Motor (second & third runs)
Dynamic Brakes as appropriate
Painted Handrails
White LED's, Golden Whites in third run
Improved roof detail
Prototypical sill detail

Road Name
Road #
Image
HO Scale Models Shown
Pictures courtesy of Atlas
Control
MSRP
Our $
Part #
Undecorated
w/Dynamic Brakes
n/a
n/a
ANALOG
$124.95
$93.71
ATL-40 002 764
$159.95
$119.96
ATL-40 002 781
M-K-T
174
ANALOG
109.95
ATL-53932
139.95
ATL-53479
178
ANALOG
109.95
ATL-53933
139.95
ATL-53480
Seaboard
619
ANALOG
109.95
ATL-53936
139.95
ATL-53483
626
ANALOG
109.95
ATL-53937
139.95
ATL-53484
Florida East Coast "100 Years"
445
ANALOG
$114.95
ATL-40 000 234
$149.95
ATL-40 000 266
446
ANALOG
$114.95
ATL-40 000 235
$149.95
ATL-40 000 267
Illinois Central
3014
ANALOG
$114.95
ATL-40 000 236
$149.95
ATL-40 000 268
3018
ANALOG
$114.95
ATL-40 000 237
$149.95
ATL-40 000 269
3031
ANALOG
$114.95
ATL-40 000 238
PanAm Railways
350
ANALOG
$114.95
ATL-40 000 239
$149.95
ATL-40 000 270
352
ANALOG
$114.95
ATL-40 000 240
$149.95
ATL-40 000 271
Rock Island
363
ANALOG
$114.95
ATL-40 000 241
$149.95
ATL-40 000 272
367
ANALOG
$114.95
ATL-40 000 242
$149.95
ATL-40 000 273
368
ANALOG
$114.95
ATL-40 000 243

Kansas City Southern (GP-22ECO)

2810
ANALOG
$119.95
ATL-40 000 378
$154.95
ATL-40 000 401
2813
ANALOG
$119.95
ATL-40 000 379
$154.95
ATL-40 000 402
2820
ANALOG
$119.95
ATL-40 000 380

Missouri Pacific

616
ANALOG
$119.95
ATL-40 000 381
$154.95
ATL-40 000 403
631
ANALOG
$119.95
ATL-40 000 382
$154.95
ATL-40 000 404

Providence & Worcester

3001
ANALOG
$119.95
ATL-40 000 383
$154.95
ATL-40 000 405
3002
ANALOG
$119.95
ATL-40 000 384
$154.95
ATL-40 000 406
3003
ANALOG
$119.95
ATL-40 000 385

Union Pacific

677
ANALOG
$119.95
ATL-40 000 386
$154.95
ATL-40 000 407
683
ANALOG
$119.95
ATL-40 000 387
$154.95
ATL-40 000 408

Western Pacific

3532
ANALOG
$119.95
ATL-40 000 388
$154.95
ATL-40 000 409

Canadian National

9302
ANALOG
$119.95
ATL-40 001 902
$154.95
ATL-40 001 934
9309
ANALOG
$119.95
ATL-40 001 903
$154.95
ATL-40 001 935
9316
ANALOG
$119.95
ATL-40 001 904
$154.95
ATL-40 001 936

Penn Central

3066
ANALOG
$119.95
ATL-40 001 905
$154.95
ATL-40 001 937
3047
ANALOG
$119.95
ATL-40 001 906
$154.95
ATL-40 001 938
3172
ANALOG
$119.95
ATL-40 001 907
$154.95
ATL-40 001 939

Rio Grande

3051
ANALOG
$119.95
ATL-40 001 908
$154.95
ATL-40 001 940
3054
ANALOG
$119.95
ATL-40 001 909
$154.95
ATL-40 001 941
3060
ANALOG
$119.95
ATL-40 001 910
$154.95
ATL-40 001 942

Soo Line

732
ANALOG
$119.95
ATL-40 001 911
$154.95
ATL-40 001 943
733
ANALOG
$119.95
ATL-40 001 912
$154.95
ATL-40 001 944
735
ANALOG
$119.95
ATL-40 001 913
$154.95
ATL-40 001 945

The ROCK

3001
ANALOG
$119.95
ATL-40 001 914
$154.95
ATL-40 001 946
3000
ANALOG
$119.95
ATL-40 001 915
$154.95
ATL-40 001 947
373
ANALOG
$119.95
ATL-40 001 916
$154.95
ATL-40 001 948

Wheeling & Lake Erie

301
ANALOG
$124.95
$93.71
ATL-40 002 765
$159.95
$119.96
ATL-40 002 782
304
ANALOG
$124.95
$93.71
ATL-40 002 766
$159.95
$119.96
ATL-40 002 783
305
ANALOG
$124.95
$93.71
ATL-40 002 767
$159.95
ATL-40 002 784

Seaboard Coast Line

1539
ANALOG
$124.95
$93.71
ATL-40 002 768
$159.95
$119.96
ATL-40 002 785
1545
ANALOG
$124.95
$93.71
ATL-40 002 769
$159.95
$119.96
ATL-40 002 786
1554
ANALOG
$124.95
$93.71
ATL-40 002 770
$159.95
$119.96
ATL-40 002 787

Burlington Route

171
ANALOG
$124.95
$93.71
ATL-40 002 771
$159.95
$119.96
ATL-40 002 788
178
ANALOG
$124.95
$93.71
ATL-40 002 772
$159.95
$119.96
ATL-40 002 789
180
ANALOG
$124.95
$93.71
ATL-40 002 773
$159.95
$119.96
ATL-40 002 790

Western Maryland

3795
ANALOG
$124.95
$93.71
ATL-40 002 774
$159.95
$119.96
ATL-40 002 791
3796
ANALOG
$124.95
$93.71
ATL-40 002 775
$159.95
$119.96
ATL-40 002 792
3798
ANALOG
$124.95
$93.71
ATL-40 002 776
$159.95
$119.96
ATL-40 002 793

New York Central

3014
ANALOG
$124.95
ATL-40 002 777
$159.95
$119.96
ATL-40 002 794
3025
ANALOG
$124.95
$93.71
ATL-40 002 778
$159.95
$119.96
ATL-40 002 795
3042
ANALOG
$124.95
$93.71
ATL-40 002 779
$159.95
$119.96
ATL-40 002 796
Back to N Scale Supply catalog page for : Atlas